Electric Encoder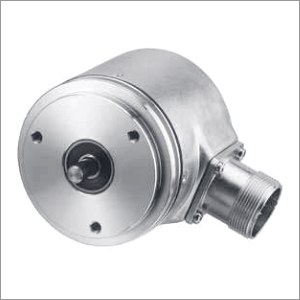 Electric Encoder
Price And Quantity
Pair/Pairs

6000.00 - 30000.00 INR
Product Description
Along with superior infrastructure facility, we supply a wide range of Electric Encoder. These encoders are sourced from the most trusted vendor of the market. The offered encoders are demanded in several industries like electrical, automobile and construction for generating electrical impulses and signals for further operations. The offered encoders are designed and assembled by utilizing superior quality components in line with current market standards. Available on the basic of power supply rating, this Electric Encoder is properly tested before delivering to our valuable customers.
Features:
Light weight

Easy to install

Heat and shock resistive
Specifications:

Universal industry standard encoder
Up to 40 000 steps with 10 000 pulses
High signal accuracy
Protection class up to IP67
Flexible due to many flange and configuration variants
Suitable for high shock ratings
Applications: machine tools, CNC axles, packing machines, motors/ drives, injection moulding machines, sawing machines, textile machines
For EX version, see RX 70-I
Operating temperature up to 100 C (RI 58-T)
Number of Pulses
1/2/3/4/5/10/15/20/25/30/35/40/45/50/60/64/70/72/80/100/125/128/144 150/180/200/230/250/256/300/314/350/360/375/400/460/480/500/512/600/ 625/635/720 / 750 / 900 / 1000/ 1024/ 1200/1250/ 1500 / 1600/ 1800/2000 / 2048/2500/ 3000/ 3480/ 3600/ 3750/ 3968/ 4000/ 4096/ 4800/ 5000/ 5400/ 6000/ 7200/ 7680/ 8000/ 8192/9000/ 10000
Other number of pulses on request
Preferably available versions are printed in bold type.
Technical Data Mechanical
Housing diameter

58 mm

Shaft diameter

6 mm/6.35 mm / 7 mm/9.52 mm / 10 mm / 12 mm (Solid shaft)

Flange (Mounting of housing)

Synchro flange, Clamping flange, Square flange, Synchro clamping flange

Protection class shaft input (EN 60529)

IP64 or IP67

Protection class housing (EN 60529)

IP65 or IP67

Shaft load axial/ radial

6 mm/6,35 mm: 20 N/40 N
7...10mm:40N/60N
12mm:60N/80N

Max. speed

Max. 10000 rpm

Starting torque typ.

< 0.5 Ncm
<1 Ncm (IP67)

Moment of inertia

Approx. 14 gcm2(Synchro flange)
Approx. 20 gcm2 (Clamping flange)

Vibration resistance (DIN EN 60068-2-6)

100 m/s2(10 2000 Hz)

Shock resistance (DIN EN 60068-2-27)

1000 m/S2 (6 ms)

Operating temperature

R158-0:-10 C +70 C
R158-T:-25 C +100 C

Storage temperature

RI 58-0: -25 C +85 C
R158-T:-25 C +100 C

Material housing

Aluminum

Weight

approx. 360 g

Connection

PVC cable, axial or radial
M23 connector (Conin), axial or radial
TPE cable, axial or radial M16 (Binder), axial or radial
MS, axial oder radial
Technical Data Electrical


General design

As per DIN VDE 0160, protection class III, contamination level 2, over voltage class II

Supply voltage1

RS422 + Sense (T): DC 5 V :10%
RS422 + Alarm (R): +- 10% DC 5 V or DC 10 - 30 V
Push-pull (K), Push-pull antivalent (I): DC 10-30 V

Current w/o load typ.

40 mA (DC 5 V), 60 mA (DC 10 V), 30 mA (DC 24 V)

Max. pulse frequency

RS422: 300 kHz Push-pull: 200 kHz

Standard

RS422+Alarm (R): A, B, N,A, B, N, Alarm

Output versions

RS422 + Sense (T): A, B, N, A, B, N, Sense
Push-pull (K): A, B, N, Alarm
Push-pull complementary (I): A, B, N, A, B, N, Alarm

Pulse width error

+-max. 25 electrical

Number of pulses

1 10 000

Alarm output

NPN-0.C., max. 5 mA

Pulse shape

Square wave

Pulse duty factor

1:1
1Pole protection with supply voltage DC 10 - 30 V
Trade Information
Mumbai , Maharashtra

100 Per Week
Export Packaging

All India